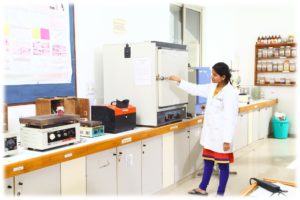 Department of Pharmaceutical Analysis has advanced facilities of chromatography and spectroscopy for analytical characterisation of drugs and excipients. The department has a research laboratory for postgraduate students and a sophisticated laboratory dedicated for UG, PG and PhD students. All the laboratories of the department are well equipped with several advanced facilities including central ventilation system, sophisticated fume hoods, etc.
Both the sophisticated analytical laboratories are well equipped with various modern instruments required for imparting knowledge to the students regarding the different types of methodology for research work.
The department provides an exhaustive programme for postgraduate education focused on research and coursework relating to the most recent advances in pharmaceutical and biomedical analysis. The importance of quality assurance in the pharmaceutical field is also emphasized.
The subject offers an explanatory overview of the regulatory process, and the key regulatory documents produced during the process of manufacturing or clinical studies. The subject deals with an exhaustive knowledge of regulatory agencies of different countries like USA, UK, Brazil, Australia, Japan, etc. along with India.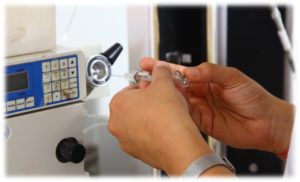 The department has been associated with academically and professionally active research personnel.
The department has received research funds worth more than one million rupees from various funding agencies like Ministry of AYUSH, Indian Space Organisation (ISRO), Department of Science and Technology (DST), GUJCOST, etc. Faculty members of the department are actively involved in interdisciplinary research work and collaborate with scientists from Institute of Science of Nirma University, Institute of Plasma Research (IPR), Gujarat Cancer Research Institute (GCRI), etc.
The PhD students also got fellowships from CSIR, DST, DST-INSPIRE and Nirma University. Faculty members presented research papers in International conferences outside India and received travel grants also.
Faculty members have published many research and review papers in esteemed scientific journals like Trends in Analytical Chemistry, Journal of Pharmaceutical and Biomedical Analysis, Journal of AOAC, Analytical Chemistry, Planar Chromatography, Current Pharmaceutical Analysis, Liquid chromatography and related Technology, Current Drug Delivery, Current Analytical Chemistry, etc. Faculty members have also applied for two patents to the Indian Patent Office. Every two years, the department organises hands-on training workshops on sophisticated analytical instruments for postgraduate students and Industry people.
Drug degradation behaviors and impurity profiling
Standardization of herbal drug and their formulations for cancer & metabolic disorders

Analytical characterisation of macromolecules and biosimilars